Taking the next steps after diagnosis
When diagnosed with hereditary ATTR (hATTR) amyloidosis, it's important to know that you're not alone. Your friends, family, doctor, and various resources are available to help manage your diagnosis.


"With resources and a supportive healthcare team, you too can become an empowered advocate."
SUE, family is living with hATTR amyloidosis
inverse-quote wide-quote-text mt-50 mb-20 wide-quote-475
Build your support system
After diagnosis, there are going to be times that you may need help from loved ones. The following steps can help you create a support network:
Discussing your diagnosis of hATTR amyloidosis with your family can help them better understand what you're going through, making it easier for them to find opportunities to help you in your everyday life, and helping them to know more about their own health.
Help your caregiver help you
A caregiver is a loved one who wants to help you manage the symptoms and effects of hATTR amyloidosis. While this can require lifestyle changes and adjustments, there are resources and information available to them.
Support groups can provide invaluable insight into life after diagnosis and to better understand the disease. By meeting other patients and by hearing their experiences, you can learn tips for managing daily activities, talking with doctors, and fostering positive change.
Search for a group near you:
After diagnosis, it's important to work with your caregiver and doctor to manage stress related to hATTR amyloidosis. There are many different techniques for managing stress, such as:
Talking with loved ones
Light activity
Reading
Participating in hobbies
Discuss options with your doctor
Talk with your doctor about any concerns or additional symptoms you might be experiencing, and to understand their recommended course of action.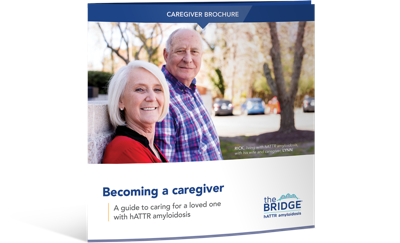 Caregiver Brochure
For loved ones who would like more information about the role of a caregiver
Events & programs
Find opportunities to learn more about hATTR amyloidosis